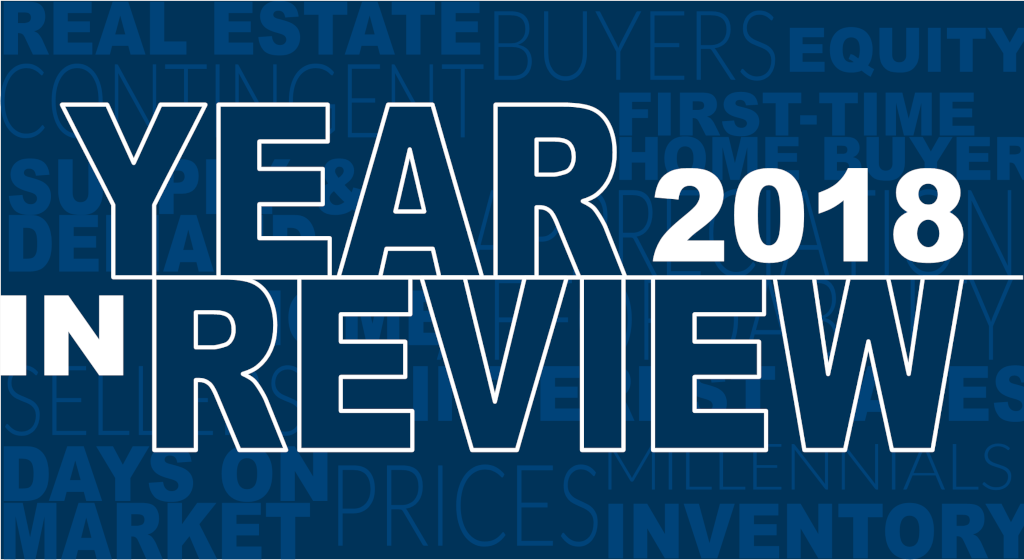 2018 was a year of growth and change. The dynamic greater Seattle area and hottest real estate market in the country started to head toward some balance. After six years of expansion resulting in an extreme seller's market, we encountered a market shift in the late spring. Where it is tricky, is the media paints a somewhat scary picture, cherry picking month-over-month statistics instead of looking at the entire year in review. I thought I'd take the opportunity to recap what led to this shift and where we might be headed.
In May, we saw a 40% increase in homes for sale. For so many years, the lack of inventory was the central theme of the market, with inventory levels as low as a two-week supply in the first quarter of 2018. These constricted inventory levels led to huge price escalations from buyers competing in multiple offers. It was not uncommon to have 10 buyers fighting over one house, resulting in a sale price 20% over the list price. That type of price growth is unreasonable and the result of the extreme market conditions. In May, that changed as many sellers started to come to market. Suddenly, buyers had more choices and multiple offers started to wane. This phenomenon led to a decrease in month-over-month price appreciation.
It just so happened that the increase in inventory was accompanied by two other influential factors. We had an increase in interest rate, and the now-repealed "Seattle Head Tax" was passed on May 14th, 2018 by the Seattle City Council.
Interest rates had been hovering in the low 4%s during all of 2017 and even in the high 3%s in 2016. We started 2018 in the low 4%s, but by May the rate had jumped a half-point. Coupled with extreme price jumps from limited inventory, affordability became an issue for many buyers. This started bringing folks to the sidelines.
A large contributor to the growth in our real estate market over the past 6 years was our robust job market, and the employment growth of companies such as Amazon. The "Seattle Head Tax" that passed in mid-May, but then repealed on June 12th, 2018, was a huge threat to our thriving economy. The angst it created in our region about the future of Seattle's job market was palpable, and had companies like Amazon making bold moves such as halting all current construction projects. Also, we were in the midst of Amazon's HQ2 search, and the head tax had Seattle on the line in regards to remaining the home to the big employers that have fed our job growth and economic rise.
The combination of a 40% increase in new listings, a half-point rise in interest rates, and the month-long battle over the head tax created pause in our real estate market. With more selection, more expensive money, and the drama in the Seattle City Council, folks were unsure of where we were headed. This created confusion, and when people are not clear they are less likely to make decisions. In retrospect, it was the perfect storm. Like any storm, it changed the environment, and like a washed-out road, we had to find a new route.
The new route, while a bit bumpy and new to navigate, has been refreshing and necessary. For so many years, we have been begging for more inventory to help temper price growth and create more mobility in the market. From 2016 to 2017, we had 14% year-over-year growth in median price in both King and Snohomish counties. To put that in perspective, the average year-over-year appreciation rate over the last 19 years has been 6%. Home values growing at double-digit appreciation rates was unsustainable, and quite frankly not affordable. This balancing-out of the market is a healthy and more sustainable new route.
Year-to-date, Snohomish County's median price has grown 10% over the previous year and King county, 9%. A large part of that growth happened in the first half of the year, and we have seen some month-over-month prices go down since, as the market starts to find some balance. The media loves to report these month-over-month numbers to create headlines, but buries the big picture of growth over the previous year and the fact that balance is healthy, in the last few paragraphs of any given article.
The mobility that this created has been a welcome change. People were not putting their homes up for sale because they feared the prospect of finding their next one, so they stayed put. The almost overnight increase in selection created a more comfortable environment for the seller who also had to buy their next home. We have even started to see home sale contingency offers come together as this market has started to balance out.
As we round out 2018, in Snohomish County we ended November with two months of inventory based on pending sales, and 2.4 months in King County. This is still a seller's market, but not the extreme seller's market that had only two weeks of inventory – and that is a good thing. A balanced market is when you hit four months of inventory, and we have a way to go to get there. Bear in mind that these measurements are of the entire county and do not take price points into consideration. We have seen inventory pile a little higher in the higher price points. The big news is that sellers are sitting on a ton of equity. In Snohomish County, we have seen a 62% increase in median price since 2012, and in King County, 66%. As long as sellers keep this in perspective and understand that pricing needs to reflect the inventory levels, they will find great success.
The opportunity to make a move-up, downsize, or even buy your first home is awesome right now. Selection is actually an option and interest rates are still historically low. Currently, we are hovering around 5%, and they have actually recently dropped. Rates are predicted to head toward the mid 5%s in 2019, making a purchase now very appealing.
If you are just curious about the value of your home in today's market or you are considering a move in 2019, please reach out. I'd be happy to relate the current market conditions to your investment and your goals. Education and awareness led to clarity, and when one is clear, they are empowered to make strong decisions. It is my mission to help educate my clients and assist them in making these big life decisions. Whatever your goals are in 2019, it is my honor to help keep you informed on all things real estate related.