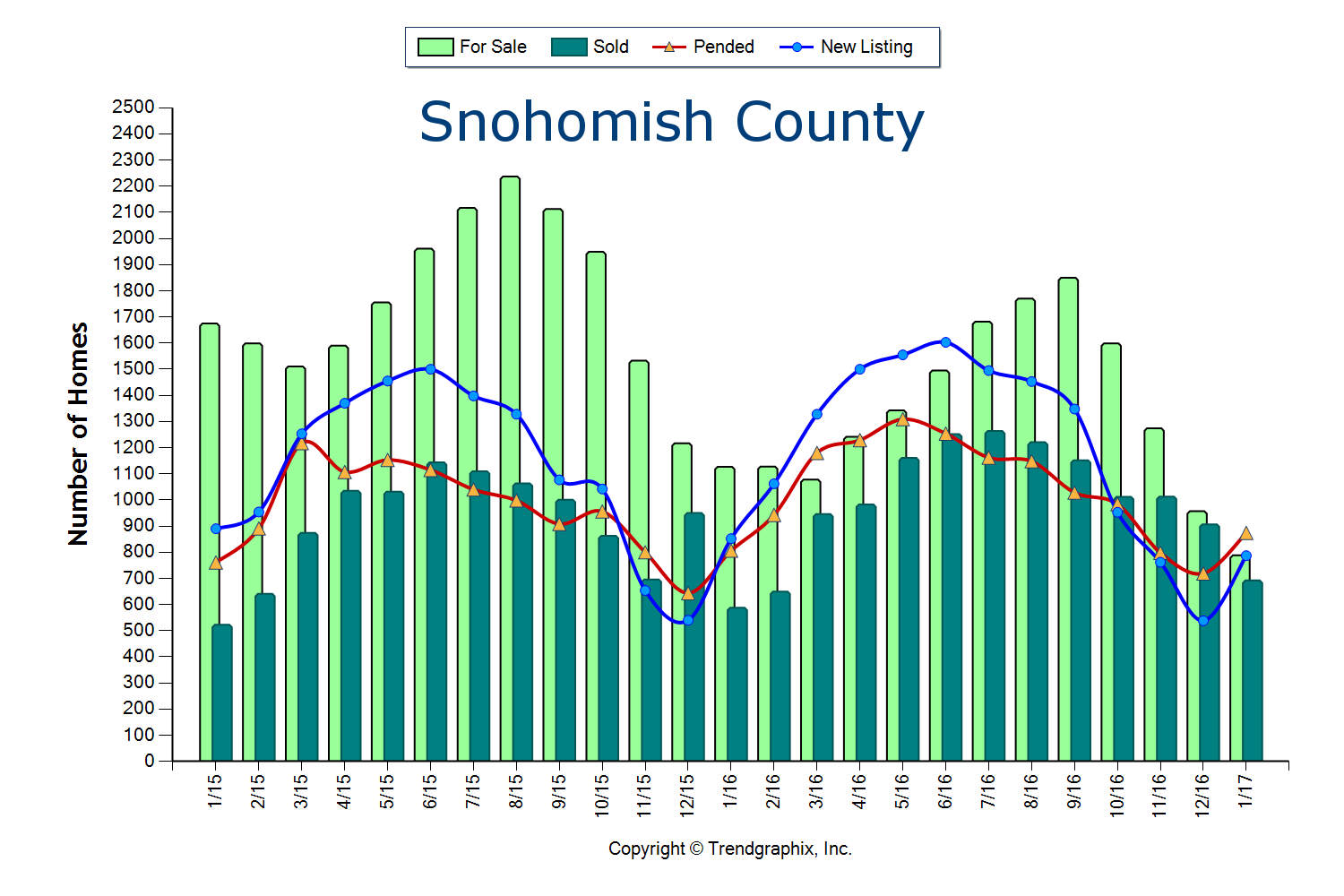 Where this particular Seller's market is unique, is that a decrease in new listings is not creating this environment, but very high buyer demand is. In fact, King County new listings were up 5% over the last year, but so were sales. In Snohomish County new listings were up 7% over last year, but sales were up 11%! Despite the increase in homes coming to market, demand has matched or outpaced, leaving us with the lowest inventory levels ever.
We can thank our local, thriving job market. So much so, that many people from out-of-state are relocating here to be a part of our economy and the quality of life the Greater Seattle area has to offer. We also have poised move-up buyers ready to cash in on their equity and first-timers ready for action. Combine the healthy local economy with strong equity levels and still historically low interest rates, and the audience for homes that come to market is huge!
Multiple offers are very common and prices are increasing. Median price is up complete year over year in King County by 13% and Snohomish County by 10%. This growth in equity has provided home owners the option to make the moves they have been waiting for, such as a move-up, right-size or relocating out of the area for retirement.
These graphs predict that we will see an increase in new listings as we head into the Spring and Summer months, which is needed to meet demand. If you are considering putting your home on the market this year I would advise the sooner the better, as buyers did not hibernate for the winter and will not be worried about flowers blooming in your front yard. Sellers that beat the second quarter increase in listings will enjoy a larger audience due to less competition.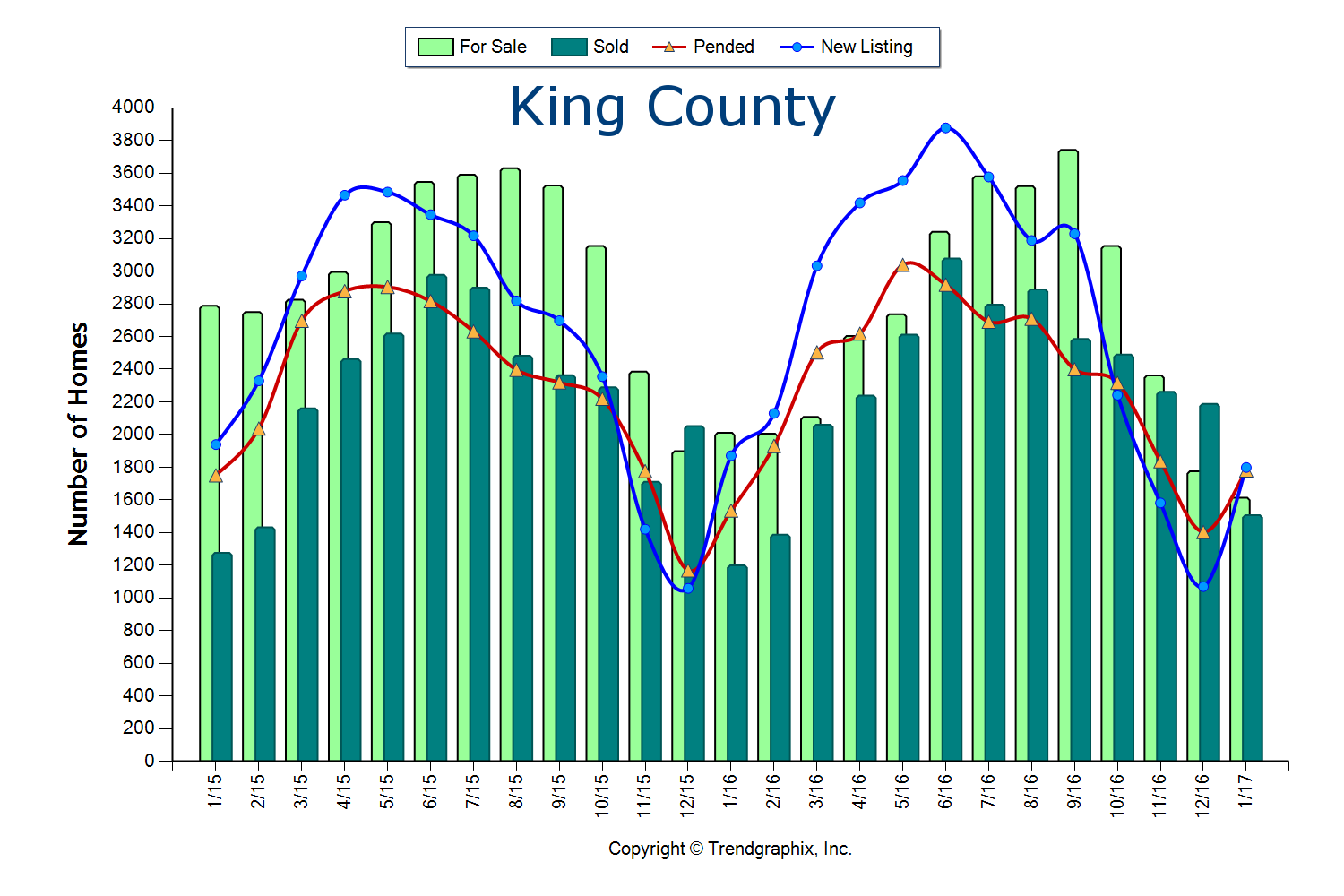 The importance of both buyers and sellers aligning with a knowledgeable, well-researched and responsive broker is paramount. One might think that it is "easy" to sell a house in this market, but how the preparation, exposure, marketing, management of all the communication and negotiations are handled can make or break a seller's net return on the sale. While market times are short, they are intense! Negotiations are starting as soon as the property hits the market by educating buyers and their brokers on exactly what a seller would like by the time offers are due. The goal is to bring the sellers I work with not only the highest price, but the best-termed offer that I know is going to close.
If you're a buyer, it is overwhelmingly important that you are aligned with an agent that knows how to win in this market. Terms, negotiations, financial preparation, communication, responsiveness and market knowledge are what set a highly capable selling agent apart, and are required to prevail. While the market for buyers is fierce, we can assure you that with a well thought out and executed plan, we have helped buyers win.
If you have any curiosities or questions regarding the value of your current home or purchase opportunities in today's market, please contact us. It is my goal to help keep you informed and empower strong decisions.
With Seattle's robust job market and high housing costs, there has been a lot of talk lately about the cost of living in the Greater Seattle area. In fact, Seattle is now the 5th most expensive city to rent in the country according to a new study from Nested.com. The average monthly rental price for a one bedroom apartment in the city of Seattle is $1,790 according to Zumper.com, up 8.5% year-over-year; and a two bedroom is $2,470, up 6% year-over-year! With rising rental rates, still historically low interest rates, and home prices on the rise, the advantage of buying versus renting has become clear for folks who have a down payment saved, good debt-to-income ratios and strong credit. Currently, the breakeven horizon (the amount of time you need to own your home in order for owning to be a superior financial decision vs. renting) in the Greater Seattle area is 2.4 years according to Zillow research.
An additional study by Nested.com outlines the monthly rental costs for a single person or a family of four, as well as the yearly income required. In Seattle, it costs the average single person $1,288.76 a month to rent, which requires an annual income of $53,328.00. The average family of four costs $2,665.34 for monthly rent, and an annual income of $101,186.48. That is a lot of money one would be paying towards someone else's investment.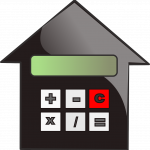 There are several factors to consider that will lead you to make the best decision for your lifestyle and your financial bottom line. One of the biggest factors is interest rates! Currently, the rate for a 30-year fixed, conventional, conforming loan is hovering around 4.25%. That is amazingly and historically low, making the advantage of securing a mortgage huge. What is nice about having a mortgage is that the payment stays the same over the term of the loan. With renting, rates can be increased at any time, and you are paying down someone else's asset, not your own. Owning gives the homeowner control over their overhead while getting to make their house their home. What is also so great about owning, is that once you have hit the breakeven horizon, every month that ticks away thereafter is building your nest egg in value. The long-term benefits of owning are abundant, including the stability of not being asked to move. These are important factors to consider for everyone, but especially the younger folks who are enjoying the benefits of Seattle's attractive job market.
Where folks are having to compromise most due to affordability is commute times, and settling in less urban neighborhoods. Worth pointing out, is the average home price in South Snohomish County is 46% less than Seattle Metro – that is a huge savings! Some people, mainly millennials, have not been willing to give up living in the more core urban neighborhoods that have high walk scores and shorter commute times. That should be apt to change as rents are rising fastest in those areas. The advantages of moving out a little further and securing a home will start people on the track of building long term wealth.
If you or anyone you know is currently renting and is considering a change, please let us know as we would be happy to get their questions answered to help them make an informed decision.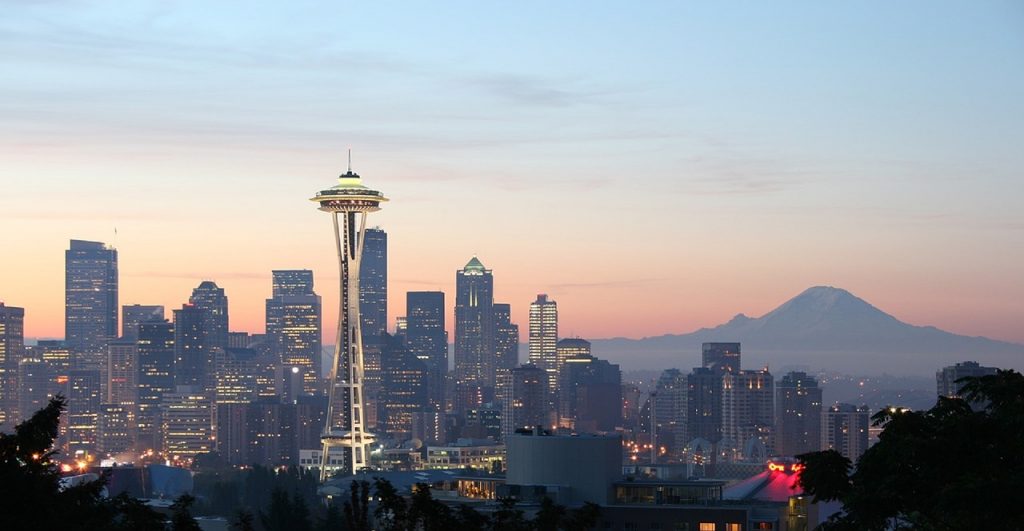 The headlines are everywhere proclaiming Seattle as the hottest housing market in the nation. Our humble city built on aerospace, trade, and influenced by a software engineer who donates millions, has found itself on the national map as the new darling of the tech world. Of course, this proclamation cannot go without mentioning the commerce juggernaut right in our own backyard, Amazon. I was told recently by Windermere's Chief Economist Matthew Gardner, that Amazon occupies 20% of all Class A business space in Seattle – that is a lot! It seems you cannot drive down I-5 between Shoreline and the Sea-Tac Airport without spotting at least 15-20 cranes busily building more of that office space.
So, why Seattle? In contrast to California's Bay Area, the cost of living here (rents and real estate) is half – office space costs half and companies can provide the same wages. This combination puts more money in employees' pockets and companies are not as expensive to run, making profits higher. This has driven many companies to relocate or expand from the Bay Area to Seattle or Bellevue, markedly increasing the demand for housing.
This has put an even tighter squeeze on inventory, putting us in the most extreme Seller's market (0-3 months of inventory) we've ever seen. This has driven prices up, and values are hinging on commute times. Below is a chart that outlines the amount of available inventory based on pending sales measured in months, and the median price in the month of March 2017.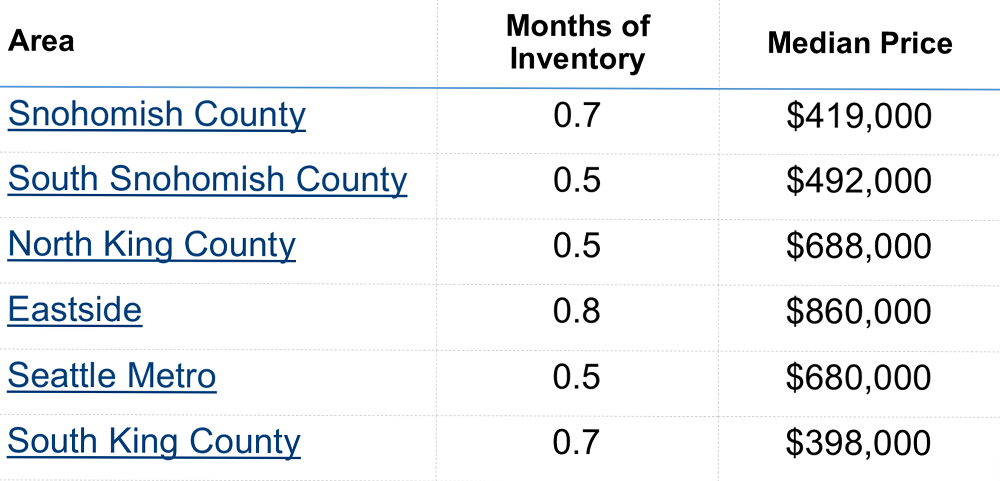 As you can see, there is a direct correlation between proximity to job centers (Seattle and Bellevue) and home prices. If you have considered selling your home and making a move, now is one of the most favorable times to do so. If you are considering a purchase, the environment is competitive but there are opportunities. Aligning with an experienced and knowledgeable broker who can help you properly strategize, is key.
One might think it is simple to sell your home in this market, but getting top dollar, strong terms, and a sale that will pass appraisal is the ultimate goal, and takes a high level of communication and nuanced negotiations. The same applies for buyers, along with education and a refined process, which helps empower buyers to make informed decisions and win.
Our city is changing, and whether you thinks it is for the good or the bad is up to you, but this is our new reality. Seattle is beautiful, prosperous and full of opportunities for those who choose to call it home. Like any opportunity, it needs to be properly analyzed, considered, and ultimately seized. If you are curious how your home measures up in today's market please contact us. Any one of our agents would be happy to provide you a complimentary market analysis to help keep you informed, or sit down and chat about the steps of a successful home purchase.